Tonight we carved pumpkins. Or more so, Mom carved pumpkins. Hailey and Ethan seemed to be excited by it up until I cut the tops off and they looked in to see the slimy guts. But Ethan did help draw on the faces of the 4 that I carved. The older the kids get, the more fun holidays are because they start to get into it!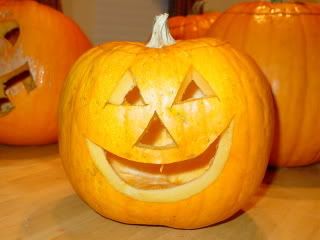 Is this white trash enough for you? Gotta love the kids in the diaper and underwear.
(We had messy food for dinner and stripped the kids down.)
I have such a great husband. Cody has been attending a mandatory training class for work and he had a ton of homework when he got home yesterday. But the kids were so interested in coloring and wanted Dad to color too. I asked Cody if he wanted me to entertain the kids some other way to he could get work done, but he said "No, coloring with them is way more important than work. I'll just stay up late tonight to do it." He does that all the time and is always reminding me how important it is to not sweat all the little things and just enjoy spending time together as a family. Like the dishes can wait while we build a fort in the living room. Anyway, I love it that he stopped to color with the kids. I remember loving it when my own daddy would color with me. Those are some of the best memories I have as a kid.